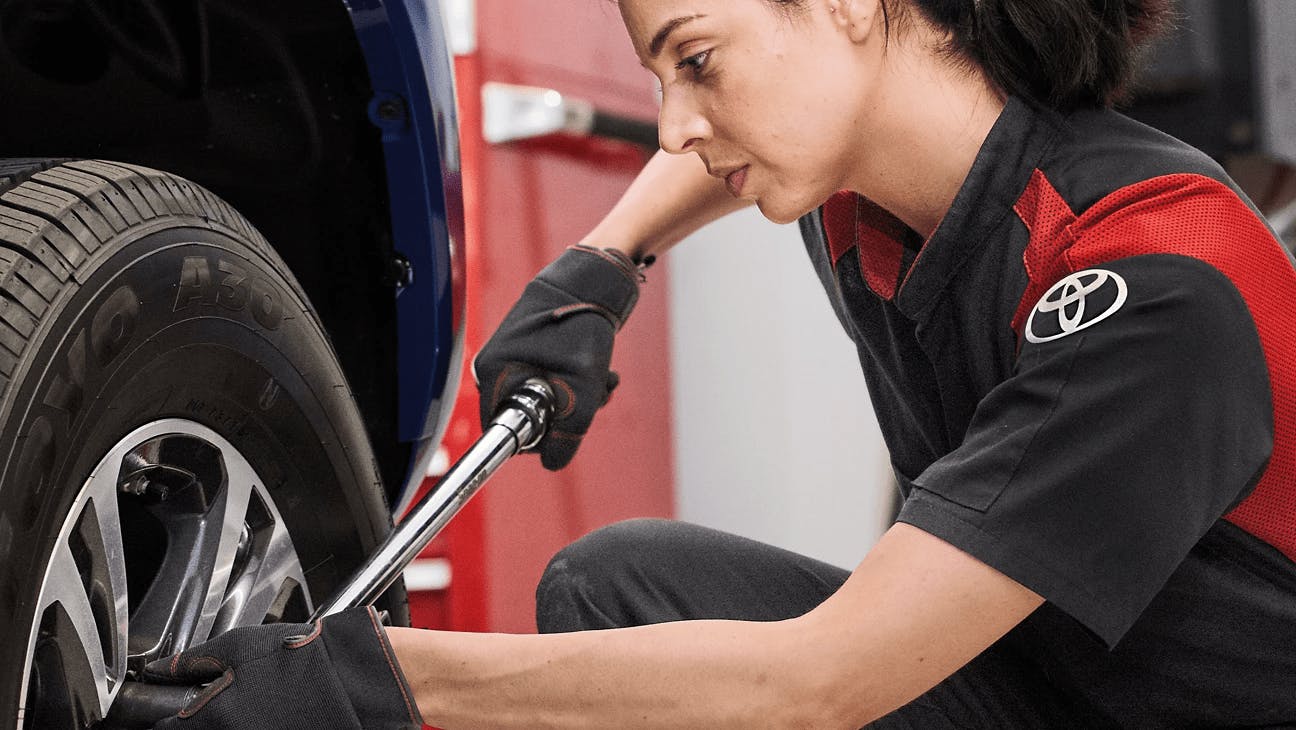 Professional Toyota Suspension Service
Need Toyota suspension service or repair near Brockton, MA? The expert technicians at Copeland Toyota are your source for top-quality suspension maintenance and repairs on all Toyota models.
Our Toyota dealer service center has the specialized tools and training to properly diagnose and fix any issue with your car's suspension system. We perform a wide range of suspension repair services to restore your Toyota's smooth, stable ride and precise handling.
From complete strut, shock, and spring replacement to repairs on individual components like control arms, ball joints, tie rods, and more, we can get your Toyota suspension back in top shape. We also do routine maintenance like wheel alignments, balance and rotations, and suspension component inspections to minimize wear.
Signs You May Need Suspension Service There are some clear signs your Toyota is due for suspension service or repair:
Uneven tire wear

Pulling to one side when braking

Vibration or bouncing when going over bumps

Excessive bouncing after hitting a bump

Unstable handling around corners

Lower ride height on one side

Strange clunking noises when going over bumps
If you notice any of these issues, bring your car into Copeland Toyota for a professional inspection right away. Ignoring worn suspension components can lead to a rougher ride, compromised handling and braking, and potentially hazardous situations.
Copeland Toyota's Suspension Service Capabilities Our Toyota service center uses the latest diagnostics technology and genuine Toyota parts to ensure your suspension is fixed properly the first time. Specific services we provide include:
Complete strut, shock and spring replacement

Control arm replacement

Ball joint and tie rod replacement

Stabilizer bar repair

Coil and leaf spring repair

Alignment checks and adjustments

Software updates and recalibrations

Suspension component lubrication
We service all Toyota models including the popular Camry, Corolla, RAV4, and Tacoma. Our technicians have extensive hands-on experience with Toyota suspensions and will take the time to explain any issues or recommended repairs.
The Benefits of Proper Suspension Service Getting timely suspension service done has many benefits for your driving experience, including:
Smoother, more comfortable ride quality

Enhanced steering and handling precision

Optimized tire wear and fuel economy

Improved braking control and stability

Restored vehicle ride height for appearance

Identifying issues before major repairs needed

Increased safety for you and your passengers
Copeland Toyota Makes it Convenient: We make getting your Toyota suspension inspected and repaired as convenient as possible. Benefits include:
Flexible scheduling including Saturdays

No appointment is needed for inspections

Shuttle service available

Coupons and service specials to save money

Online scheduling and repair updates

All repairs are backed by a Toyota warranty
Don't wait on those overdue suspension repairs. Contact Copeland Toyota today to schedule service! Our friendly staff will set up a time that fits your schedule and provide a cost estimate for any recommended work. We want your Toyota suspension back to factory smooth performance so you can drive confidently.
Back to Parent Page