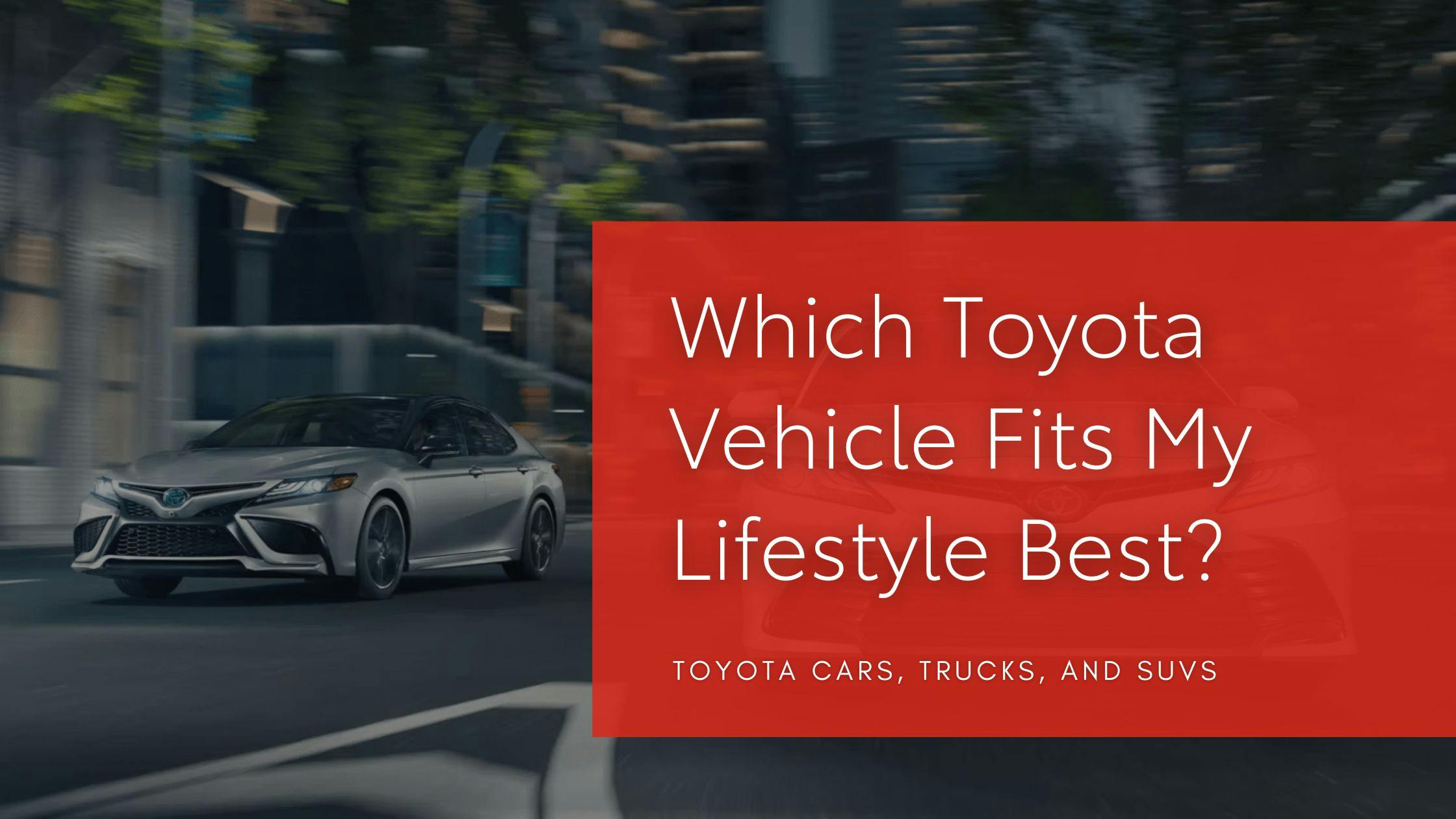 Which Toyota Vehicle Fits My Lifestyle Best?
When deciding which Toyota vehicle to buy, the options are vast. The luxury of owning a Toyota vehicle is that there is a car, truck and SUV for every type of automotive customer! The makers ar Toyota have a perfect vehicle for every lifestyle. Our Toyota Massachusetts team have listed out steps and recommended vehicles for every car-buyer near Braintree, Raynham, and Brockton.
What Is Important to You When Driving a Car?
We recommend you make a list of vehicle features and functions that you desire to find when purchasing a new or used vehicle.
Who Will Be in the Vehicle?
Whether you are hauling the family on a New England road trip or, car-pooling the kids to soccer, it is important that your Toyota vehicle suits your needs as well as your passengers'.
How much cargo space do you need?
Again, if you are hauling sports equipment for a family or plan on taking your Toyota from Brockton to Braintree, you're probably going to want a Toyota SUV over a compact sedan.
How many people do you regularly need to carry?
While we love smaller sedans, you might want a Toyota Sienna or New Highlander for a family of four or more.
Copeland Recommends:
Capable, Versatile Toyota Crossovers and SUVs
From the sporty Rav4 and the chic Toyota Highlander to the stout 4Runner and Corolla, we offer the capabilities you've come to expect with supreme comfort and exceptional performance.
What Is Your Budget for Gas?
Generally speaking, the smaller the vehicle, or the smaller the engine, the better the fuel economy.
While Copeland Toyota has a number of hybrid options for our larger vehicles, it's worth considering what you need if you regularly commute.
Copeland Recommends:
Alternative Fuel & Hybrid Toyota Vehicles
Toyota has popularized the idea of using hybrid technology to maximize the fuel-efficiency of vehicles and you can find these fuel-sipping options on nearly every model we make. That includes the new Toyota Prius and plug-in Prius Prime, but also our hybrid Highlander available in Brockton, MA.
What Are Your Wants & Needs?
Your "need" feature list:
This might include things like Bluetooth connectivity, fold-down rear seats for fishing rods, space for two car seats or the ability to haul flea market finds home without moving around your backseat. It really just depends on what you need for your vehicle.
Your "want" feature list:
Maybe you've been thinking about performance driven seadan such as the Camry. Or, maybe a special appearance package feels like it would help you stand out. We also love the premium stereos available on many of our upper trims. Be sure you list what you would like as well.
Copeland Recommends:
Power & Performance Driven Toyota Vehicles
When considering a truck such as the Toyota Tacoma, you are ensured maximum capacity and horsepower. A new or used Toyota Tacoma offers everything you could want in a midsize truck while our newly redesigned new Toyota Tundra for sale in Brockton sets new marks in towing and power.
Once you have this list, you should be able to narrow down your search of vehicles to at least body type, size and oldest year model (for safety features and certain technologies). After that, you can start to look at different models from Toyota's lineup. Visit Copeland Toyota today, and let us help you find the perfect Toyota Vehicle in Massachusetts!
Back to Parent Page